Fast forward a couple of months since the cup final and it's now late March. The morale in the men's locker room at ASD Torres is about as high as the peak of Monte Santu.
No-one has managed to keep us from scoring since that fatal game against Tonara in October (read here about how our best player broke his ankle). We're currently on an 18 game unbeaten run with 17 wins and a draw in five months.
With six games left in the season, we're just one win away from bringing the Eccelenza Sardegna trophy back to the Torres trophy cabinet.
New to this series? We're on a mission of gender equality. The women's team at ASD Torres have won seven Italian championships, eight Coppa Italia titles and seven Supercoppa Italiana wins. The men have achieved nothing. That needs to change. Click here for the prologue.
Good news also, that Javier Martinez is finally back after breaking his ankle in the match against Tonara. Though it turned out we needed him less than I thought at the beginning of the season. He might have been in a foul mood, but he has healed a lot faster than expected.
He's still not ready for his first start yet, but I'll play him as much as I can in the remaining matches. He might be an ill-tempered liability in the changing room dynamic, but his sheer technical ability makes me want to take that risk going into next season.
So 18 games unbeaten since the Tonara defeat. Javier Martinez just returning. The possibility of securing the double in the next game. I'm not one for reading too much into signs, but then… our next fixture is Tonara away.
Tonara – Torres: Here's what happened:
We came out strong in the first couple of minutes getting a few shot on goal. Then in the 7th minute, our defensive midfielder Zanini came in a bit too hard on Canale. Free kick, just outside the penalty area.
Tonara striker Francesco Milan (freekick: 16) positions himself. Runs up and places the ball in the top right corner. 1-0 Tonara.
I told them to push forward and press for an equaliser. "Get stuck in, remember what they did to Javier Martinez last time!"
At half time the score was still 1-0. I asked them if they even wanted to win this and told them to get more balls in the box for Botrini and Grimaldi.
Finally at the 75th minute, we were awarded a freekick on the left side. Ravesi floated in the ball. Mohammed Diallo rose above the Tonara defenders. GOAL: 1-1.
After that, Torres were in control as Tonara clearly started playing for the draw. We had them under pressure and I felt there was a good chance we'd get another goal.
And then in the 86th minute, in what was to be the final highlight of the game, well, you probably need to see this to believe it. We're the ones in the white kits attacking from left to right, mind you.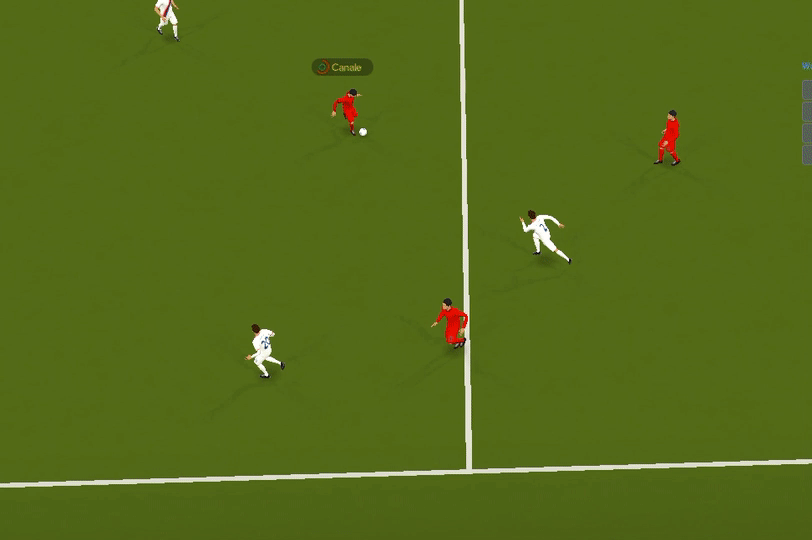 It was a long, awkward trip back to Sassari. Nobody said anything on the bus. Our goalkeeper Matteo Amato (concentration: 6, by the way) just sat there with his headphones on, staring into the night trying not to look anyone in the eyes.
The following day the mood was so poor, Javier Martinez pulled his thigh in training. I'm not sure he didn't do it on purpose somehow. So he's out again. This time for nine more days.
The only good news is that we now have the chance to claim the double when we play Orrolese at the Vanni Sanna next week. It's a poor consolation, but then again there is something special in winning the league at your own stadium.
At least the Torres board knows a business opportunity when they see one. They've announced the game will be a fan-day to boost the home crowd.
READ THE NEXT CHAPTER HERE: 
Parità dei sessi 5: Stupid is as stupid does
Thanks for reading. I'd love to get feedback from you, so please reach out with questions, comments, suggestions or whatever else you feel like. You can reach me on Twitter at @FM_Ponzie or in my Slack channel #Torres.
Don't know what Slack is? Neither did I until recently. It's an amazing forum for FM players. Click here to join the conversation.
A special thanks to Torres for letting me use their photos on the blog! All credits go to official photographer Alessandro Sanna. Grazie mille!
Please follow and like us: