Felice anno nuovo! It's been six months since I took over Torres and so far we've been tearing up the opposition. It's January now and we are comfortably leading the Eccellenza Sardegna. We're on a 13 game unbeaten streak with 23 goals scored and only 4 conceded.
The success is a double-edged sword, however. Obviously, everyone at the club – hell, everyone in Sassari – is thrilled that we're doing so well. We'll need to, of course, if we are to claim the Eccellenza trophy that the media and our board have been demanding from the get-go.
However, the fans at the Curva Nord aren't the only ones noticing our performances. Half our first team have other clubs swarming for their signatures. Our Argentinian right winger, Maximilliano San Millan, is even being scouted by Vicenza. Vicenza! They're two tiers above us, their home attendance is six times ours and their training facilities are listed as "great". I mean, come on, they even pay their players.
Being an amateur club I can offer him nothing but the promise that we will achieve great things at this club. He can either be a part of it or get off at the next station. But this train is stopping for no one.
New to this series? We're on a mission of gender equality. The women's team at ASD Torres have won seven Italian championships, eight Coppa Italia titles and seven Supercoppa Italiana wins. The men have achieved nothing. That needs to change. Click here for the prologue.
And now the match of the season is upon us: We're in the cup final. Well. It's probably not the game of the season to be fair. And it's not the Coppa Italia of course – we were never invited to participate in that. No, this is the Coppa Italia Sardegna Eccelenza.
Nobody really cares about this competition. But the way I see it, this will be the first step toward matching the ladies at the club. Remember, this is what we set out to do: We have to catch up with the incredible women's team at Torres and win 7 scudetti, 8 Coppa Italia titles (the real one) and 7 supercup wins.
We need that winner mentality in the men's changing room as well. It doesn't come by itself, but brick by brick we'll build it. We lay the first stone today as tonight we're hopefully going to bring home the first silverware. Or tin foil or plastic or whatever the Coppa Sardegna Eccelenza trophy is made of.
Torres vs Guspini Terralba
We're playing Guspini Terralba at the Nino Manconi stadium in the village of Tempio Pausania. It's neutral grounds, but it's much closer to Sassari than Terralba, so I'm expecting the rossoblu faithful to show up in good numbers.
I sent the team out in our usual 4-4-2 formation. We're sitting deep and relying mostly on our wingers to bring the ball to the two powerful forwards, Botrini and Grimaldi. Grimaldi is a new signing, that joined us in late November. He has the acceleration of an old tortoise but other than that, he's brilliant.
I'm playing him as a target man with Botrini as the advanced forward. It probably due to lack of chemistry, but so far their link-up have not lived up to expectation.
And then in the 43rd minute this happened: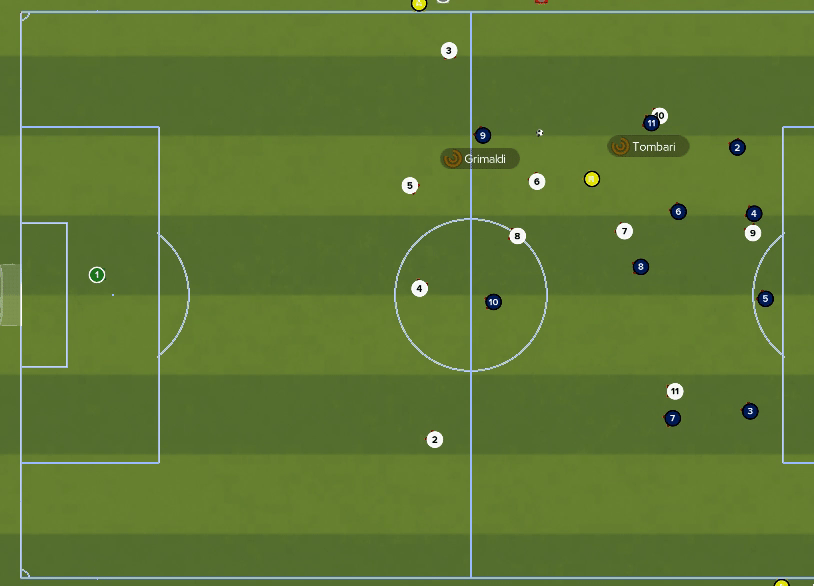 Grimaldi apparently spent the holidays viewing old Andrea Pirlo clips on Youtube. 1-0 Torres!
The rest of the match flew by in a flurry of headers and shots from our forwards. Guspini Terralba fought bravely and in the end, the 1-0 results was probably a fair reflection of the efforts.
So there it is. A tin foil trophy and 10K of prize money in the bag. Not bad at all. Now all I need to do is call the local bus company about renting an open double-decker.
READ THE NEXT CHAPTER HERE: 
Parità dei sessi 4: Grudge match in the Eccellenza
Thanks for reading. I'd love to get feedback from you, so please reach out with questions, comments, suggestions or whatever else you feel like. You can reach me on Twitter at @FM_Ponzie or in my Slack channel #Torres.
Don't know what Slack is? Neither did I until recently. It's an amazing forum for FM players. Click here to join the conversation.
A special thanks to Torres for letting me use their photos on the blog! All credits go to official photographer Alessandro Sanna. Grazie mille!
Please follow and like us: